Professional Tile Shower Steam Cleaning, SealING & Restoration
We will make your shower look brand new!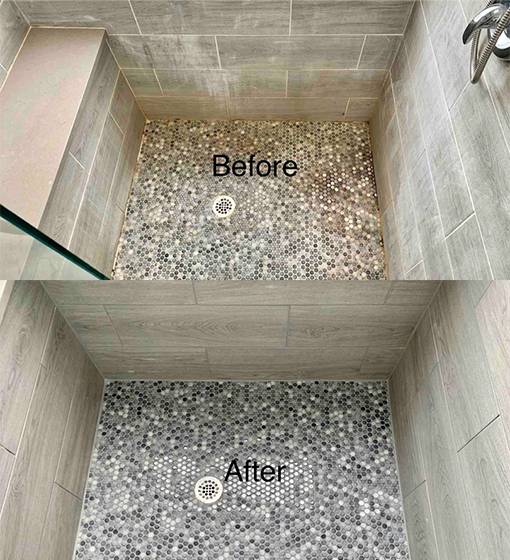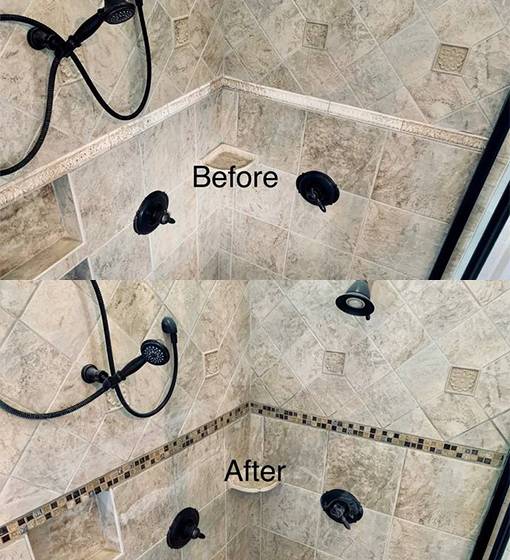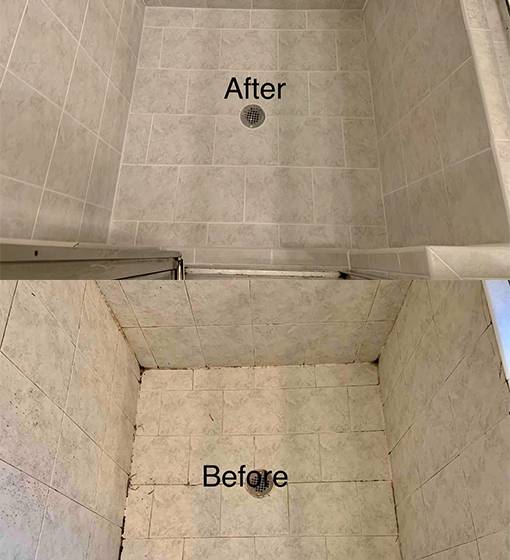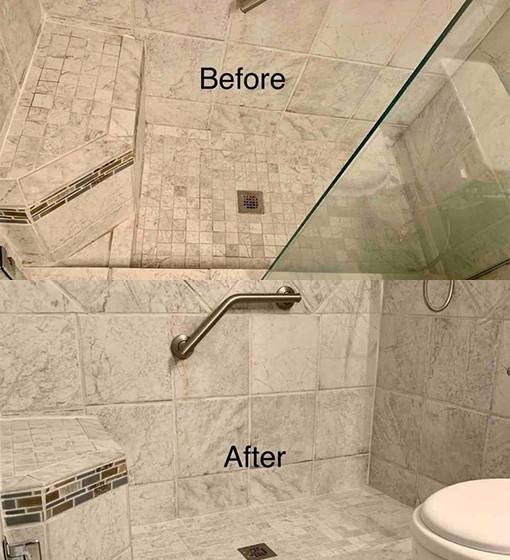 Now you will have low maintenance grout that is easy and quick to clean.
Your shower will need to cure for 48 hours once we are complete and you should never clean with anything that contains bleach as it will break down the sealer. You wont need the power of bleach now that your shower is properly sealed.
Carolinas Grout Pros' Shower Services
Can you imagine that the place supposed to bring you the most cleanliness and hygiene has accumulated the most dirt and bacteria? No worries. Our shower services can help you restore the bathroom to an entirely new original state.
We Eliminate Various Types of Stains in Your Bathroom
There are various kinds of stains you may find in your bathroom; we use a different cleaning method for each type. Here are the most common ones:
1- Iron
Excess iron in water, especially well water, can cause red or orange stains. These are often seen where the water stops flowing, such as on the shower floor or in the bathtub. To remove these stains, one can use diluted acid solutions in addition to descaling to dissolve the stain.
2- Acidic Water
If the pH of the water is lower than 7, it may leave a green coating. It can damage the bathroom's plumbing, joints, and waterproofing in the long run.
3- Hard & Salty Water
Hard water with a high content of minerals such as magnesium and calcium results in a white coating. These stains are calciferous and can be seen on faucets, showers, and bathroom surfaces. Excess limescale can also damage water-based appliances.
4- Manganese
Typically, untreated water contains a high concentration of manganese. Although this element is generally beneficial to health, its high amount leaves brown deposits.
5- Tannins
Tannins in well water or other natural organic matter will leave yellow stains on bathroom tiles and floors.
In addition, bacteria, mold, or fungus can also accumulate on tiles, grout, around fixtures, and grout lines. This not only makes the bathroom look unsightly and surfaces lose their shine but can also cause illness. The constant foul smell is another consequence of mold growth.
Get in Touch
Shower services from Carolinas Grout Pros will remove all these deposits from your bathroom. Our years of experience will guarantee you the quality you want and a satisfactory result. It does not matter if it's caulking, replacement, or repairs. You can confidently leave your crisis to us. For a free estimate, call or text us at 803-610-7387.