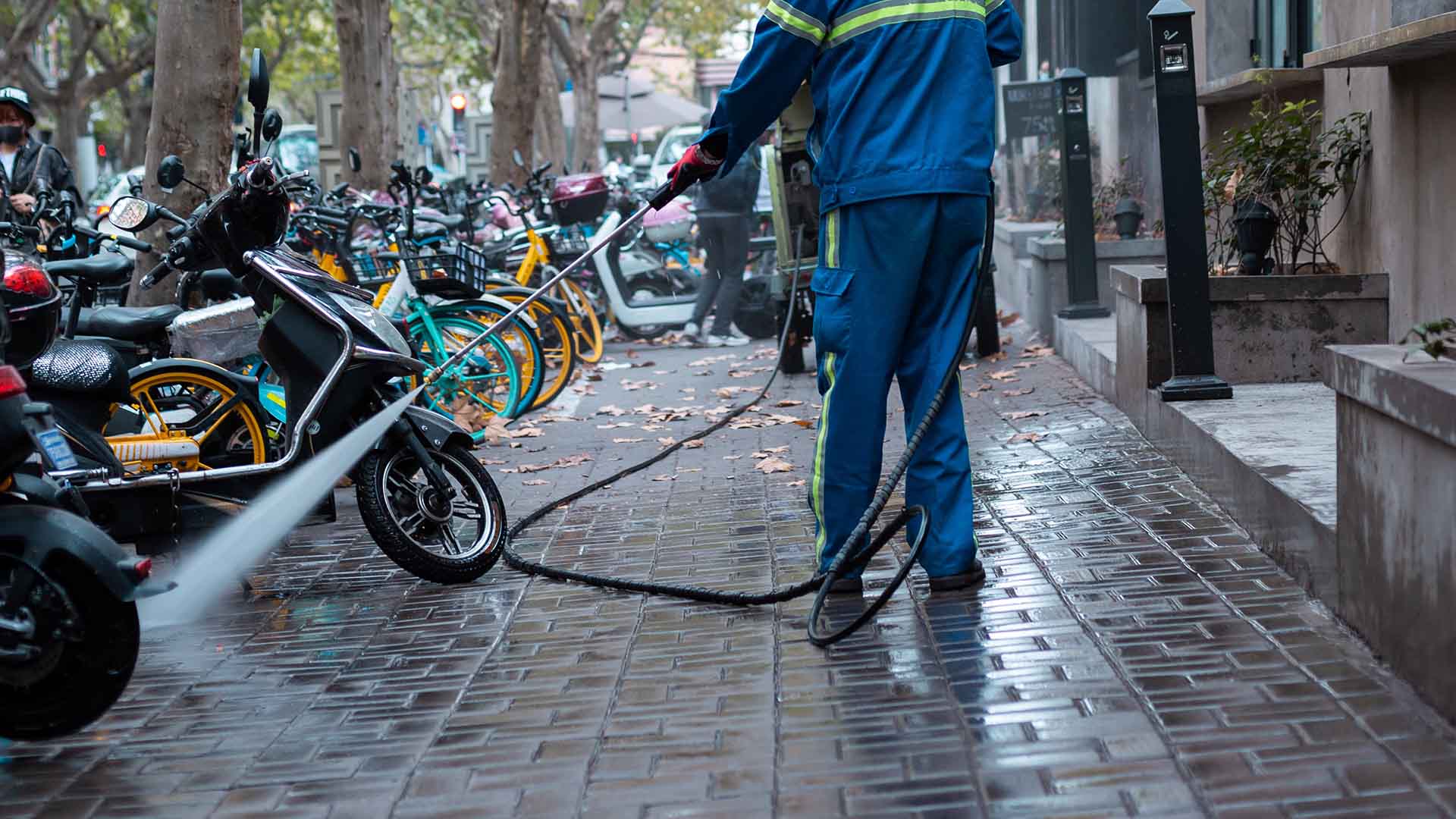 Power washing involves spraying heated water at high pressure onto a surface to clean it. This process can be used to wash mold, grime, dust, and dirt off surfaces, among other things. The pressure, of course, must be matched to the surface being cleaned.
Power washing is usually done by professionals and on surfaces that are difficult to clean. For small areas, the procedure can also be done by non-professionals. It all depends on the machine that is being used. At Carolina Grout Pros, we use professional equipment and various nozzles to which a layperson may not have access.
Our power washing services are mainly used to clean driveways, sidewalks, roofs, parking lots, and other concrete surfaces. 
How Our Power Washing Services Work
Our power washing services are basically spraying water at high pressure onto surfaces to clean them like a newborn baby. Our machines vary in size and the water pressure they can generate. Our equipment allows the water pressure to be adjusted to the surface being cleaned. 
The nozzle we use depends on the pressure we want to achieve. They are also used to change the flow and speed of the water. With the right nozzle, it's possible to spray the water farther. Nozzles also usually have a color-coding to distinguish them.
What Is It Used For
As mentioned earlier, power washing is used to remove stubborn dirt. Compared to other forms of surface cleaning, this service is much faster. Manual cleaning of exterior surfaces, especially huge ones, is time-consuming and tedious.
Usually, concrete and similar surfaces that can withstand high water pressures are good candidates for power washing services; however, the process can be used for more delicate surfaces since the pressure can be adjusted. Some examples of where power washing can be used are surfaces contaminated with dirt, mud, gum, mold, grime, or loose paint.
Another benefit of our power washing service is the control of weeds and moss. Their growth can be inhibited by the powerful blast of hot water, slowing or even stopping their growth.
Power Washing vs. Pressure Washing
Power washing is often confused with pressure washing. Although the two terms are used interchangeably, there are some simple but significant differences between them. Both use water under pressure (usually the same pressure). The difference is mainly in the water temperature. Power washing uses heated water, which gives more efficient results. 
Choosing how to wash a surface depends on a variety of factors. Think of power washing like a weapon you are taking to a battlefield; power washing is sometimes too big!
Even if the water isn't heated, the services are still more efficient than soap and mop. Deciding how to clean a surface depends on three things: Your budget, the surface, and a professional's opinion. We can help you choose the right service for your property, depending on the conditions in your home.
Chemistry Matters
Different chemicals can be used in power washing. The difference between them means life and death for the surface you are working on. The details of each chemical that can be used in these cases are too extensive. It's best to leave your choice of chemicals to a professional.
Carolina Grout Pros' professional power washing services involve using our own mix of chemicals designed for your property's surfaces. 
Get in Touch
While it is fine for owners to do the work themselves, there is a risk of damaging the surface that is being washed if the water pressure is too high. Another less common danger is hurting yourself or damaging the equipment.
When it comes to power washing, the details matter; that's why it's usually best to hire professionals to do the job, as we can ensure that the correct pressure, nozzle, and other details are in place. 
If you have any further questions on this topic, please feel free to contact us; we'll be more than happy to answer your questions.